This page features information and links for resources and websites.
e sword is an excellent electronic Bible software program. It comes with a number of resources and others can be added in. It has many features for searching and providing cross references. It also includes reference, commentary and graphical modules. Even though this program is provided free, please donate in order to help fund the costs associated with providing the website. More modules are available at Bible Support
While it has some free Bible translations included, I would highly recommend getting the NASB Bible Study Set with Strong's Numbers to be able to search the original language words from a modern translation rather than only from the King James Version.
This is what e-sword looks like. In this case I have used the NASB Bible. You can see that in the other 2 windows, every resource that has a blue and white information symbol has information on that verse or word. Here you can see in the bottom window the definition for the word "day" and in the r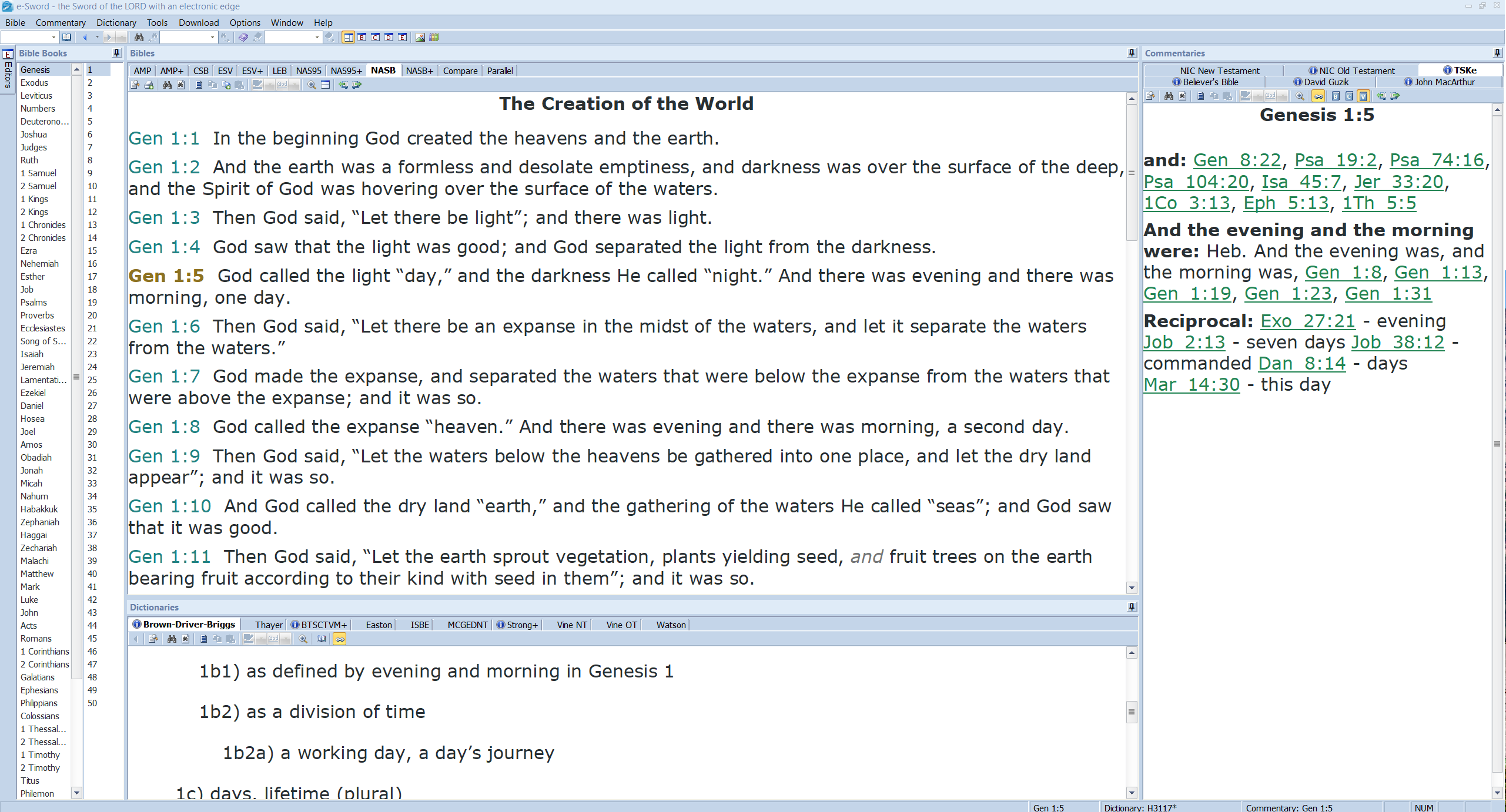 ight window, cross references for the verse.
Some E Sword modules that I have prepared
The following are modules that I would recommend for e-sword (these are available right from the program itself in the "Download" tab)

ESV Bible
LEB Bible
TSK (Treasury of Scripture Knowledge) cross references (an expanded version is available at Bible Support)
Brown- Driver- Briggs Hebrew Definitions
Thayer's Greek Definitions
Mounce Concise Greek-English Dictionary
Strong's Hebrew and Greek Definitions
Easton's Bible Dictionary
International Standard Bible Encyclopedia
David Guzik Commentary

There are some modules available that may be purchased if desired.

NASB Bible
CSB Bible
John MacArthur Commentary
Believer's Bible Commentary
For those wanting more in-depth resources than those available for e-sword, the following ``paid for`` Bible programs are available:
Accordance Bible Screen shot of Accordance
A very good resource is "Dictionary of Bible Themes" This is available for Accordance and Logos as electronic versions.
It is also available on Bible Gateway and Bible Hub
This is a "must have". It has very good maps and explanations from Abraham to the New Testament time period. There are also video teaching links to YouTube. Spending 2 1/2 hours watching these will give a really good base understanding of the Bible lands and some of the major events. With the purchase of the hardcover book, you can also download the maps and pictures.
Biblemapper is a great tool for making your own maps. While it is a paid resource, it is well worth the price. It comes with a number of map templates which can all be customized. These maps can also be used freely with the only stipulation being to give credit to Biblemapper as you can see on this map.
Provides a lot of very good materials, information and videos on the historicity and accuracy of the Bible.
Has lots of really good information and videos
Comprehensive Videos on the fact of Genesis being history. I would highly suggest getting the "complete creation bundle"
A video series hosted by Ray Vander Laan exploring the Bible Lands
Video episodes on the time of the United Kingdom and following the Messiah
Bibles
I would suggest using the NASB or ESV translations of the Bible as they are the most literal and accurate translations in modern English. The original KJV and the newer NKJV are good translations but have older English words and sentence structure. A good discussion on this is found on the website Things Revealed - Bible Translations. Another good site to find good analysis of Bible translations is Bible Researcher
In terms of a good study Bible, I would suggest the Thompson Chain Reference Bible. It has an extensive cross reference system with topical study guides. While other Study Bibles do have a lot of good information, they generally have a doctrinal bias, so care must be taken when using them. Most do not seem to have a high view of Genesis, while others will seek to limit what God can, or will do, in our present "church age". The e-sword electronic Bible with its resources is an excellent way of studying. The commentaries and other resources will also need to be evaluated for truth. The commentaries listed above appear to be quite trustworthy.
Study Helps
The situation is a lot worse when it comes to "Christian" Encyclopedias, Dictionaries, Commentaries, Bible Atlases and so on. From what I have seen, most of the contributors are Theistic Evolutionists, Agnostics and others that hold beliefs other than the true reading of the text as plainly written, as they try and fit millions of years into the text. (This applies mostly to the Old Testament, but you do need to be careful in regard to the New Testament as well) Most do not seem to have a high view of the inspiration and authority of the Bible. I would highly recommend studying the Scriptures without study helps first to see what the text says so that the meaning is not affected by what others have said. The TSK (Treasury of Scripture Knowledge) cross reference in e-sword is one of the best ways to study Scripture. After this, the study helps can provides some extra insights. Resources that are good to use with e-sword are the Brown-Driver-Briggs Dictionary, Thayer's Greek Definitions, Easton's Bible Dictionary, John MacArthur Commentary, David Guzik Commentary, Believer's Bible Commentary. Commentaries should only be consulted once an in-depth study has been performed using only the Bible and consulting Hebrew or Greek Lexicons if desired.
In my Overview of the Bible I provide basic background information, maps and charts to help provide an overview and framework for understanding the Scriptures.
Video Clips at other websites
Part 1 of evidence of the Flood
Part 2 of evidence of the Flood
Is Genesis History - full video
Formation of the landscape at Mount St. Helens (similar to the Grand Canyon)
Reliability of the New Testament 1
Reliability of the New Testament 2
Old Testament Text Transmission with Peter Gentry Part 1
Old Testament Text Transmission with Peter Gentry Part 2
Creation-Evolution foundational questions
Ken Ham on the importance of the 6 days of creation for the authority of the Bible
Jesus said
"But it is easier for heaven and earth to pass away than for one stroke of a letter of the Law to fail. (Lk. 16:17)
The Apostle Paul said
Remind them of these things, and solemnly charge them in the presence of God not to wrangle about words, which is useless and leads to the ruin of the hearers. Be diligent to present yourself approved to God as a workman who does not need to be ashamed, accurately handling the word of truth. (2 Tim. 2:14-15)
The Apostle Peter said
always being ready to make a defense to everyone who asks you to give an account for the hope that is in you, yet with gentleness and reverence; (1 Pet. 3:15)
"Scripture quotations taken from the (NASB®) New American Standard Bible®, Copyright © 1960, 1971, 1977, 1995 by The Lockman Foundation. Used by permission. All rights reserved. www.lockman.org"